Single Dental Implants
Affordable Single Dental Implants for a Natural Looking Solution
Prosmiles – Single Tooth Implant
A Tooth Implant or a Dental Implant is an artificial tooth root made out of Titanium which replaces the missing Root.
Once the Dental Implant is inserted into the Jaw bone, the bone fuses or integrates with the implant over 3-4 months.This then provides a stable foundation to which a Crown can be attached.
3 Reasons to choose Prosmiles for Affordable Dental Implants and Teeth Replacement in Melbourne
1. Convenience:
At Prosmiles Melbourne we perform all aspects of Dental implants including Bone Grafting, Sinus Grafting and the Revolutionary All on 4 Dental Implants Procedure. In house advanced technologies such as 3D CT scan, Key-hole Implant Surgery and Sleep Dentistry should you choose to be asleep during the treatment. Most importantly, we strive to deliver a very caring and personalised experience during your Dental Implant treatment.
2. Experienced Dentist and Credentials:
Not all Dentists are Designers! Achieving great results is about drawing upon countless hours of Post Graduate Education, Years of Experience and Getting the Right Balance of Health and Aesthetics.
At Prosmiles our experienced Implant dentist Dr. Madhur has over 12 years of Professional Dental Implants Experience managing Simple to Complex cases in Melbourne. He has attained Formal Post Graduate Education in Dental Implants from The University of Sydney with a Distinction.
3. Quality Dental Implants:
At our Melbourne Clinic we strive to make the Dental Implants Cost affordable. We are committed building relationships with our clients, based on Honest Advice and High Quality Cosmetic Dental Implants. We are committed to using only the Best and Well Researched Dental Implants Products that we would use on our family
Let's have a look at a couple of our Quality Dental Implants Transformations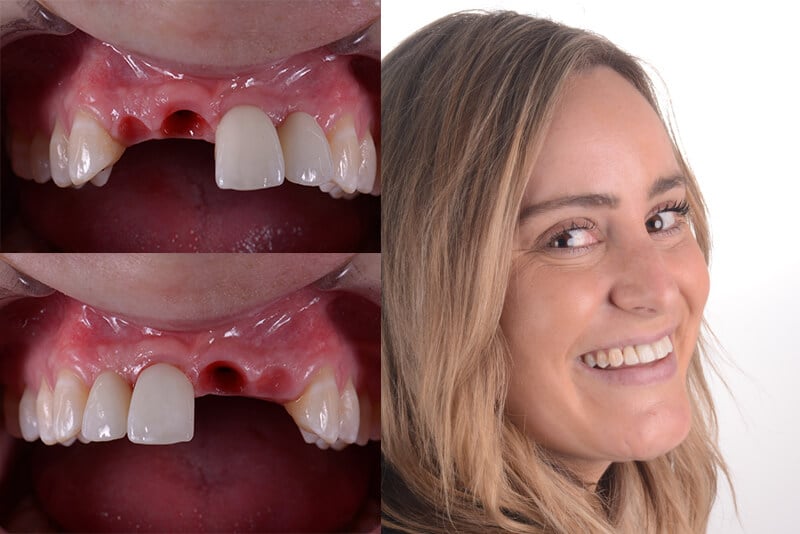 Dental problems:
Unfortunately had to loose front 4 teeth because of developmentally short roots 
Our approach: Careful gun and bone grafting, dental implant supported bridges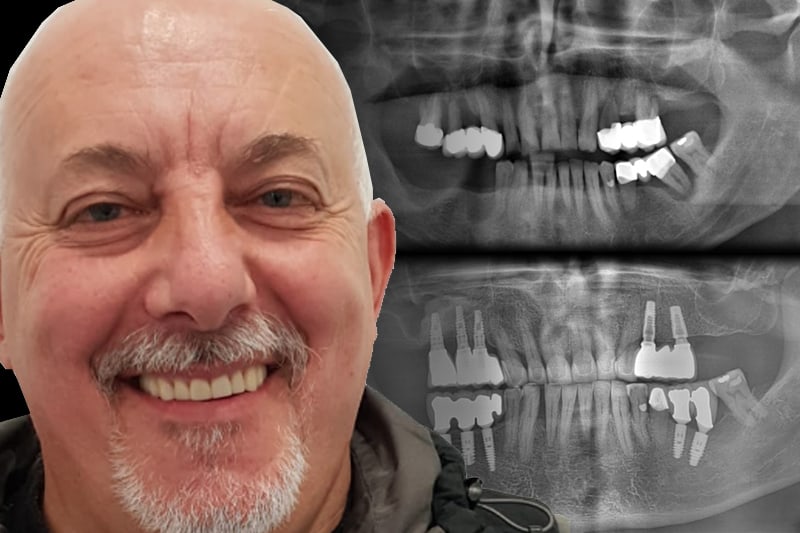 Dental problems:
Multiple missing and infected teeth, collapsed bite
Our approach: Bone grafting, sinus grafting, Ten dental implants and rebuilding the bite with porcelain veneers
Dental Implants – Your Advanced Tooth Replacement Option at Prosmile
3 Ways to achieve Teeth Replacement with Dental Implants
1. Single Dental Implant
An aesthetically superior tooth replacement, a single dental implant is a robust long-term solution for a tooth replacement that does not damage the neighbouring teeth
Restoring your smile is a simple 3-step process which involves; a titanium implant being inserted into the Bone area where the tooth is missing. After 3-4 months of healing, an abutment or a post is then attached to the implant which securely supports the Implant crown.
2. Multiple Dental Implant
Multiple Dental Implants offer a fixed and natural looking teeth replacement solution for several missing teeth. The procedure is similar to a single dental implant where multiple missing or failing teeth are replaced using Multiple Implants. Multiple Dental Implants can also be used to secure loose and unstable dentures.
In contrast to Dental Bridges, Dental Implant Bridge does not damage adjacent healthy teeth, they are not capped or negatively impacted in any way.
Multiple dental implants preserve bone density, reducing the possibility of a partial facial collapse and increasing one's chewing capacity and confidence.
3. All on 4 and Total Teeth Replacement
With more than 10 years of Extensive experience conducting All on 4 in Melbourne you can rest assured to receive High Quality Dental Implants at Prosmiles. All on 4 is a revolutionary technique for Total Teeth Replacement for people who have teeth which are failing due to gum disease or broken down dentition. In most cases the All on 4 Dental Implants procedure Avoids Bone grafting and provides Fixed Teeth Replacement in just 1-3 days.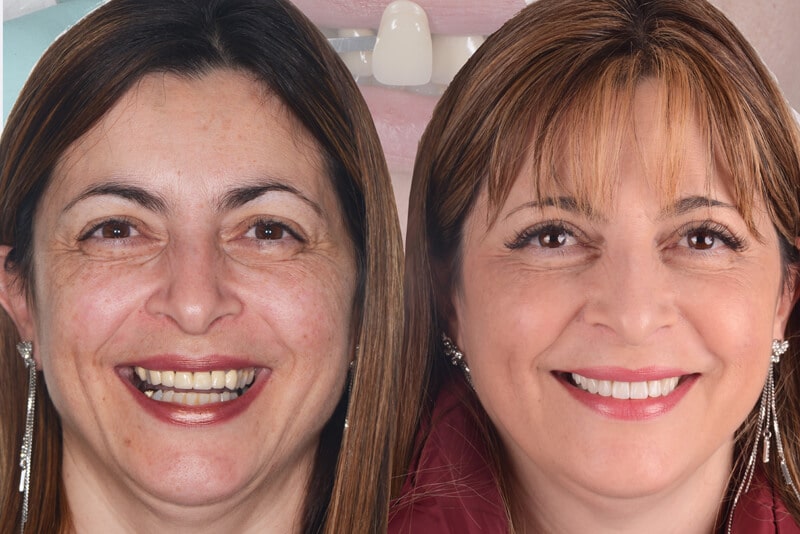 Nicollette's Transformation
Dental problems:
Uneven smile, Failing Porcelain Crowns done overseas, Missing teeth
Our approach: Porcelain Veneers, All ceramic dental bridge, Dental implant and bone grafting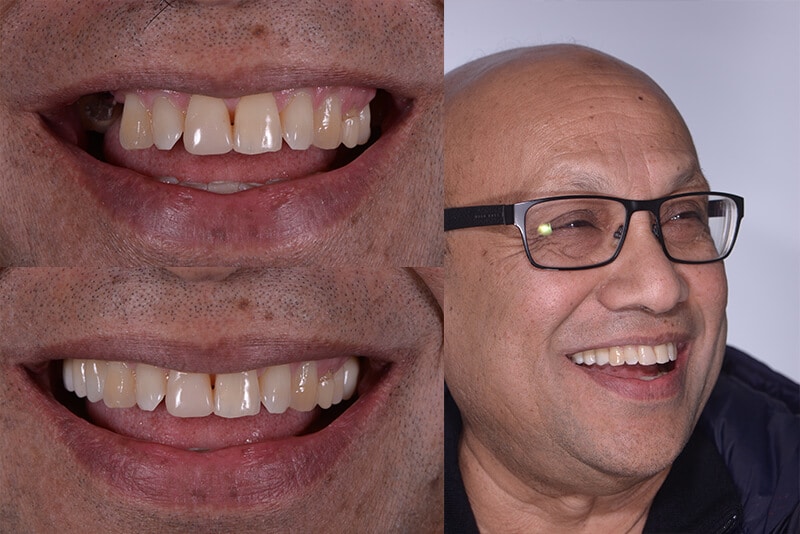 Dental problems:
Missing four back teeth and very poorly done implants overseas and gum infections around implant crowns
Our approach: Removal of four defective implants and extensive bone grafting followed by rehabilitation of four new implants and crowns
Experience and Expertise in Cosmetic Dental Implants
Dr.Madhur Shiralkar, our principal dentist offers an extensive portfolio of achievement, having achieved distinction in his Graduate Diploma in Clinical Dentistry (Oral Implants) from the University of Sydney and has been published in the Australian Dental Magazine and has taught fellow dentists at the DIA Implantology Academy in Melbourne. In 2011, he also achieved an Award for "Best International Case Presentation" in the U.S.
At ProSmiles we are committed to ensuring quality dental care is affordable for all our patients. We offer NO GAP* Dental Implant Consultation, so you can be informed of the various treatment options available to you without obligation or commitment.
The Dental Implant process at Prosmiles
Step 1: Free Dental Implant Consultation
We get to know you and understand your needs.Its a No Obligation 15 mins consultation to meet our Principal dentist Dr.Madhur.
Step 2: 3D Scan and Treatment Planning
Once you consent we can do In-house 3D CT Scan to assess your jawbone for dental implants.Our Implant Dentist will carefully assess your situation to make sure your gums are jaw bone are free of infection prior to the dental implant placement.We will then give you a detailed treatment plan so that you are fully aware of all the treatment steps.
Step 3: Placing the Dental Implant
In experienced hands this is quite a straight forward procedure.For suitable cases, we also offer state of the art "Key-Hole Dental Implant Placement with Computer Guided Surgery".Our experienced Implant dentist will make you aware in advance if your situation demands additional procedures such as Bone grafting. Depending on your Individual situation single or multiple dental implants are placed for teeth replacement.If you suffer from Dental fear or Dental Anxiety we offer Sleep Dentistry at our Melbourne clinic.You will be comfortable and asleep while we work!
Step 4: Making of the Final Crown
Time to Smile! In 3 to 4 months,once the implant or Implants have healed we start making crowns or bridges for affordable teeth replacement.Here at Prosmiles,Dr.Madhur only works with a couple of World Class Melbourne technicians to make your Implant teeth.
Explaining the Cost of Single Tooth Dental Implants
Many factors can influence the cost of dental implant procedures. The complexity of your individual situation through to your jaw density may impact the price of your treatment plan.
Considerations include:
The Experience and Education of your dentist and dental technicians
The number of teeth in need of replacement
Clinical condition of your existing teeth
The need for additional procedures including bone and gum grafting and separate second stage surgery
The location of the missing tooth or teeth – if a single front tooth or multiple teeth located in the 'smile zone' requires customised components and intricate and more detailed lab work
Creation of custom-made implant crowns or bridges to compensate for reduced bone density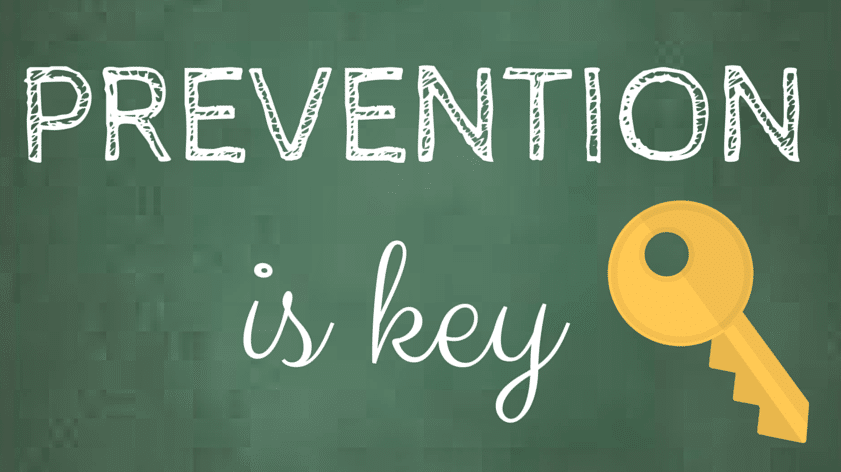 Frequently Asked Questions
What can go wrong with Dental Implants?
The Good Old saying "You Get What You Pay For" holds totally true when it comes to Dental Implants in Melbourne.
As with any surgery Dental Implants Procedure and Teeth Replacement also carry their share of risks. Meaning for Some People the Goal of Achieving a Brand New Smile or Stable Teeth Replacement can become a nightmare.
Different Dentist have their chosen area of focus. Dr.Madhur at Prosmiles, Melbourne has been successfully performing Dental Implants, All on 4 and Bone Grafting Surgeries for 10+ years. Most importantly, in that experience he can showcase many Simple to Complex Smile Transformations which demands a lot of expertise.


I have severe Dental Phobia; do you offer Sedation Dentistry for Dental Implants in Melbourne?
Dr. Madhur at Prosmiles has special interest in managing clients with Dental Fear and Dental Phobia. Call Prosmiles on (03) 8613 3416 for a "Guilt Free Consultation". For clients with Dental Fear we offer In-House Sleep or Sedation Dentistry with support of our trusted Specialist anesthetist.
Whether you need Total Teeth Replacement with All on 4 or you need Affordable Dental Implants in Melbourne you will be asleep during the treatment if you choose Sleep Dentistry at Prosmiles, Melbourne.
What are Computer Guided Dental Implants?
"Computer Guided Implant Placement" or "Key Hole Dental Surgery "is State of the art minimally invasive technique to insert Dental Implants. This means we have to do "Minimal Peeling of Gums" while placing your Dental Implants. The biggest benefit being Minimal Post-Operative Discomfort, Increased Safety and Precision.
Here at Prosmiles, Melbourne we have In House 3D Scan and Key Hole Implants Planning Software to augment years of Experience Dr. Madhur has to offer.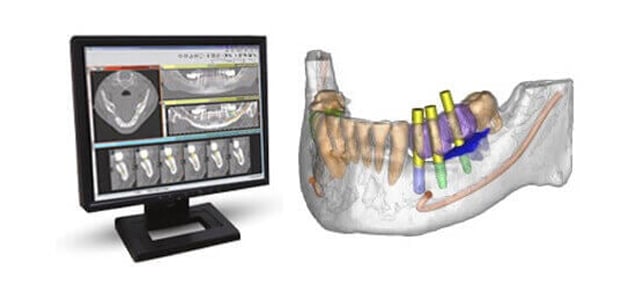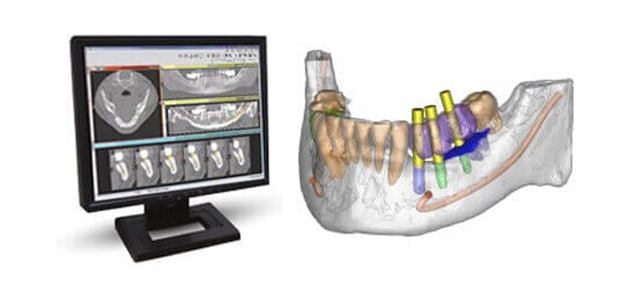 What are Cosmetic Dental Implants?
Modern Dental Implants are used as Anchors to either Restore a Smile or Provide Stable Teeth Replacement in case of Missing Back Teeth. Only an Exceptional Dental Implants Dentist will be able to achieve the balance of Looks/Cosmetic and Function. Cosmetic Dental Implant is about providing a great natural looking outcome.


What are Immediate Dental Implants?
Immediate Dental Implants is a procedure where an Implant is inserted in the Jaw bone at the same time of Tooth Removal along with some minor Bone Grafting. This means the treatment time is significantly reduced.
Here at Prosmiles, Melbourne Dr. Madhur generally performs Immediate Dental Implants for Teeth which are broken at gum line or broken front tooth due to sport injuries or accident. In selected cases, this can be a very viable option.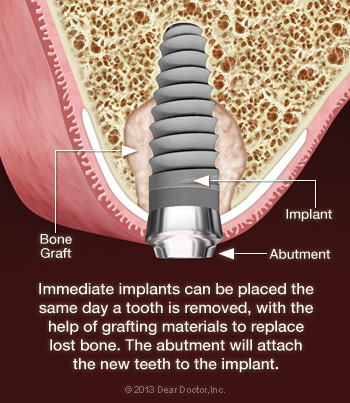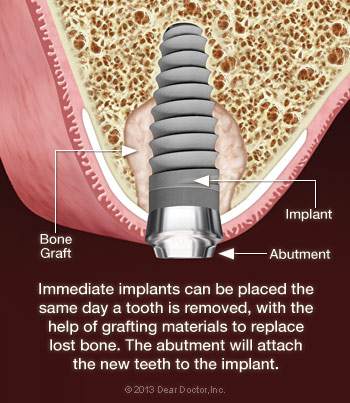 What are Affordable Dental Implants?
Here at Prosmiles, our mission is to make Quality Dental Implants affordable in Melbourne. Let's understand the 3 factors while considering Affordable Dental Implants:
1. Experience and credentials of the Implant Dentist. Our Principal Dentist in Melbourne Dr. Madhur has Formal Post Graduate Education from the University of Sydney. He has performed and transformed hundreds of smiles with Dental Implants in Melbourne over the last 10+ years.
2. Dental Implants Materials and Labs.
We only use Quality Dental Implants with at least 10 years of research.
We use Quality materials and where possible only use Single Use Dental Implant Components.
Committed to provide the best possible outcome to the clients using High Quality Melbourne Labs to make Implant Crowns and Bridges.
3. Treatment Complexity.
Our Experienced Implant Dentist Dr.Madhur can assess your individual treatment needs during your Dental Implants Consultation. After thorough assessment, we will endeavor to offer Affordable Dental Implants in all Easy and Moderate Cases in Melbourne
The loss of a tooth is a traumatic experience and may cause a range of oral health issues. This may include a compromised smile, gum tissue shrinkage and a loss of stability and chewing force when eating. At Prosmiles whether it be a single dental implant or multiple implants, we only use High quality dental implants, abutments and dental crowns. In partnership with local master technicians our crowns are produced in Melbourne and are an affordable option for all patients.
Book a Consultation Today
Restore your smile with Affordable Dental Implant treatments at Prosmiles Collingwood.