Cosmetic Dentistry
Life-Changing, Smile Transforming Cosmetic Dentistry
At ProSmiles, our focus is on creating healthy, natural-looking smiles. We are equally passionate about:
Helping you smile with confidence
Creating smiles that complement your facial structure
Restoring bite for lasting results
Experienced and Professional Cosmetic Dentistry That You Can Trust in Melbourne
Premium dentistry creates beautiful smiles. However, at ProSmiles, we also focus on dental health and functionality! Combining our extensive experience, cutting edge technology, and premium materials, we help you achieve a complete smile transformation.
Reasons To Choose ProSmiles For The Best Cosmetic Dentistry Results
Years Of Experience And A Caring Approach
Meet our Principal dentist Dr Madhur: Madhur has over 15 years of experience in transforming smiles using various cosmetic dentistry procedures.
It's about creating the right balance between health, function, and aesthetics. He takes a very holistic approach while completing the best possible smile transformation. We improve your smile by taking a very friendly and caring approach throughout the journey.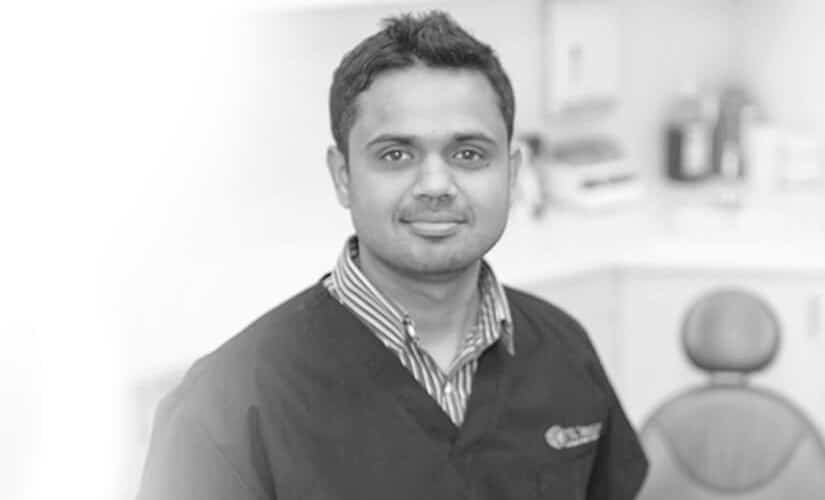 Exceptional Results
We work to the highest standard to create exceptionally and stand out smiles. We pride ourselves on going the extra mile to achieve the best possible smile transformation for you.
Feel free to look at our cosmetic dentistry before and after images or download our popular guides.
A World-Class team
Dr Madhur has worked with world-class Melbourne ceramists to achieve your smile transformations. At ProSmiles, our team of professionals work together to ensure you're in the best hands possible and that your desired smile becomes a reality.
Let's Have A Look At Rick's Journey
A beautiful smile is not just about teeth. It's about creating a smile that complements your face.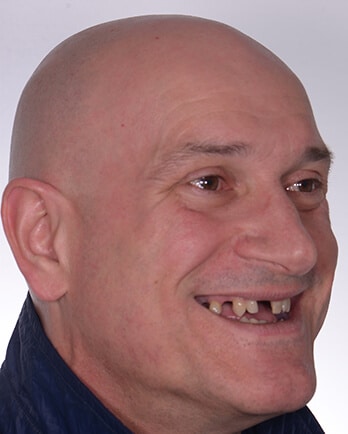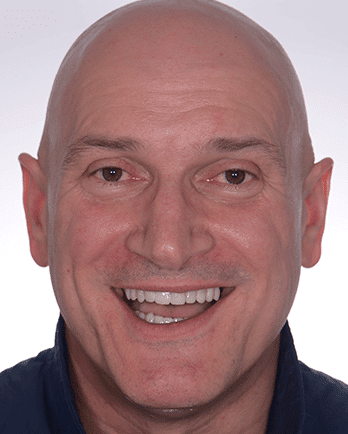 We Create "The Trial Smile"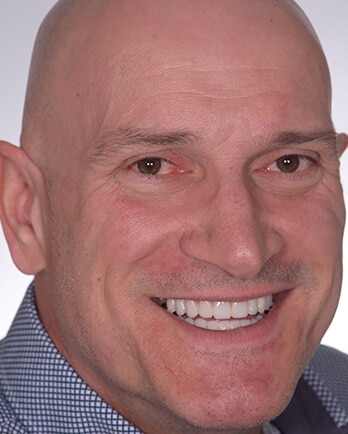 Problem:
Rick had endured missing and broken teeth for years.It was affecting his Confidence, Personality and ability to Eat properly.
Solution: Careful planning of Rick's smile with "Smile Test Drive". Exceptional smile transformation done with custom crafted Porcelain Veneers, Crowns and Bridges.
Steps To Attaining Your New Smile
Our principal dentist Dr Madhur is a sought after cosmetic dentist in Melbourne who is passionate about providing high-quality cosmetic dentistry using handcrafted porcelain veneers and dental implants. Here at Prosmiles, we utilise the latest technology to a natural-looking, flawless smile.
We take a very personalised and thorough approach to the best quality cosmetic dentistry.
Step 1: Consultation
Here you will have your consultation with our cosmetic dentist Dr Madhur. We take time and listen to your cosmetic dental concerns to assess your smile makeover needs while maintaining a holistic approach.
Step 2: Smile Design and Planning
After your consultation, our team will take photos and moulds of your teeth to assess the structure of your face and smile. This allows us to design a natural-looking smile that compliments your face
Step 3: Your Test Drive Smile
Experience your new smile before the treatment begins! During this process, you will be able to make changes to your proposed new smile as you see fit. Our team of dentists have been using 'test drive smile' digital technologies and artistic finesse in Australia for years – allowing us to perfect your desired smile.
Step 4: Rebuild Your Smile
After your 'Test Drive Smile,' we will provide you with a clear and detailed treatment plan. Our cosmetic dentist Dr Madhur, then utilises a combination of cosmetic dentistry services such as porcelain veneers, dental implants, and All On 4 to rebuild a healthy, natural-looking smile.
The Benefits Of Cosmetic Dentistry
Cosmetic dentistry provides a range of health and aesthetic benefits. At ProSmiles, we aim to improve the look of your smile while boosting the functionality and performance of your teeth. There are various advantages associated with cosmetic dentistry, including:
Teeth Whitening
Teeth can become discoloured over time and have a negative impact on the overall look of our teeth. When this happens, it often leads to serious confidence issues, which affects our daily lives. Hence, with various cosmetic dentistry procedures, such as the addition of porcelain veneers or dental crowns, the look and appeal of your teeth can be transformed. Teeth whitening can significantly alter the look of your smile for the better. Hence, when you're struggling with discoloured teeth, choose from our range of cosmetic dentistry treatments.
Boosting Confidence
Struggling with misaligned, crooked, or overcrowded teeth can often generate a range of insecurities that cause us to lose self-confidence. Constantly hiding away your smile can become tiring. Therefore, our dentists at ProSmiles utilise cosmetic dentistry services such as Invisalign, porcelain veneers, and crowns to help you achieve a complete smile makeover that you will love and be proud to show off. Rejuvenate the look of your smile and eliminate the discomfort by talking to our dentists about the perfect cosmetic treatments for you.
Long-lasting Results
At ProSmiles, we utilise the latest technology in modern dentistry to create the perfect smile which will last for years to come. We guarantee that all our cosmetic dentistry procedures are completely safe and constantly mastered by our dentists to provide the best results. We believe that cosmetic dentistry should help you achieve your dream smile, and therefore, at our dental clinic in Collingwood, we utilise the best treatments to create a set of teeth that is more visually appealing.
Improving Oral Hygiene
Cosmetic dentistry will do more than just transform the look of your teeth. Your oral hygiene is important in ensuring the overall functionality of your teeth and keeping your smile healthy. Without proper oral hygiene, the visual appeal of your teeth will start to deteriorate. At ProSmiles, our dentists will advise you on properly maintaining your oral hygiene and what practices to implement into your daily routine to ensure your teeth continue to prosper.
Avoid Other Dental Problems
While cosmetic dentistry focuses on the improvement of appearance, the methods used will also strengthen your set of teeth. With more robust, functional teeth, you will avoid future dental problems that may cause more damage. The assessments completed before any cosmetic dental procedure will help uncover any underlying dental issues that need to be addressed. The addition of cosmetic dentistry will also improve appetite, relieve headaches, and improve oral hygiene. For more information on our services and procedure costs, contact our team at ProSmiles today.
Let's Have A Look At Tina's Journey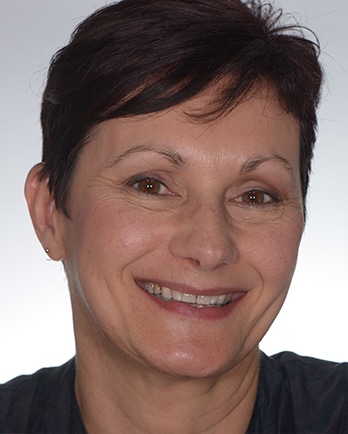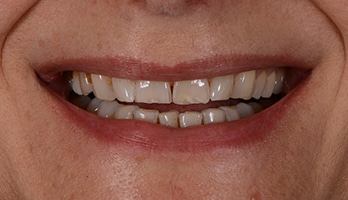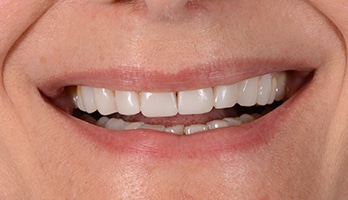 We Create "The Trial Smile"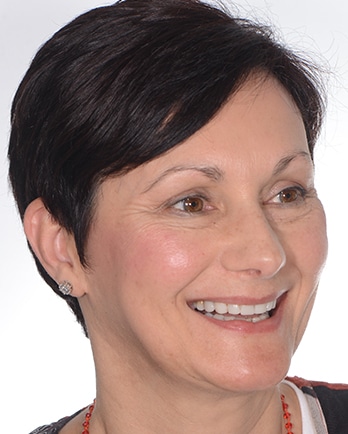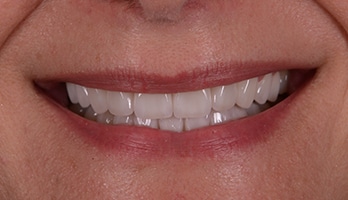 Problem:
Old fillings on front teeth were breaking down, uneven gaps between the teeth and uneven gum-line
Solution: Digital smile design and trial smile, laser gum lift for 2 teeth to restore your smile with porcelain veneers.
Our Cosmetic Dentistry Services
Digital Smile Design
A digital smile makeover consists of completely transforming the look of your teeth to create a set that exemplifies a perfect Hollywood smile. This process utilises revolutionary technology, which allows the dentist to show the patient how their smile will look after the procedure. Digital Smile Design will rectify a range of cosmetic dental issues such as alignment and spacing, missing teeth, harmony and balance, and enhance your overall smile. To ensure you attain your best smile, our dentists will combine a range of cosmetic and restorative procedures and tailor them to suit your dental needs. For the best smile makeover, choose our team at ProSmiles.
Porcelain Crowns
When you require significant changes to the alignment of your teeth, opt for ProSmile's porcelain crowns. They are perfect for those who are experiencing bite issues, discoloured or misshapen teeth, and more. The addition of porcelain crowns is ideal for restorative purposes and will result in a functional and aesthetically pleasing set of teeth. We specialise in affordable dental crowns in Collingwood to provide the best for our patients.
Porcelain Veneers
Porcelain veneers are one of the most common cosmetic dental treatments as they can transform the aesthetic appeal and functionality of the teeth. Porcelain veneers will enhance self-esteem and rejuvenate your smile. Porcelain veneers have a range of benefits such as restoring a youthful smile, straightening an uneven smile, closing minor or moderate gaps, address minor bite issues, and more.
Insane Smile Makeovers
At ProSmiles, we provide high-quality cosmetic dentistry services to ensure our patients receive insane smile makeovers, increasing confidence and rectifying a range of dental concerns. Take a look at some of our insane smile makeovers and how we have tailored our services to suit each patient's dental issues. To experience an insane smile makeover for yourself, choose our team at ProSmiles today.
Invisalign
Are you looking for a way of straightening your teeth without the need for traditional metal braces? The Invisalign treatment consists of clear aligners which will gently push your teeth into position without the wires and brackets needed for traditional braces. As an orthodontic procedure, Invisalign targets overcrowded and spaced teeth, as well as various bite-related issues. Invisalign ensures that your mouth functions properly while enhancing its aesthetic appeal.
Smile Journeys – Real People, Real Results
Rediscover your self-esteem as you smile with confidence and eat without hassle.
The Art of Cosmetic Dentistry
We fuse cutting edge techniques, artistry, and skill with our premium quality materials to complete your smile transformation. With our team of advanced dental practitioners, we are ready to change your life.
Reveal the best of you as you smile with confidence, eat with comfort, and rediscover your self-esteem. Say goodbye to chipped, discoloured, missing or crooked teeth with our advanced cosmetic dentistry options available at our dental clinic.
Choose from high-quality porcelain veneers, dental crowns, and the industry-changing All on 4 dental implants. Optimise your appearance and oral health with our commitment to complete health dentistry. Our patient-centric holistic approach is created to deliver comprehensive dental solutions and treatments, ensuring your smile is as engaging as it is healthy.
Consult with our Cosmetic Dentists
Allow us to educate you on your cosmetic dentistry options! Our commitment to your future long term dental health is at the core of our fully tailored cosmetic solutions. We listen and strive to exceed your expectations throughout the process of your dental treatment in Collingwood.
At ProSmiles, our unique holistic approach fuses science and art, offering all our clients a life-like realistic result. We pride ourselves on combining engineering and artistry in a way that enhances your life and gives you a reason to smile. Your long-term dental health is our priority.
ProSmiles Advanced Aesthetic Dentistry Procedures
Best Cosmetic Dentist FAQs
What can go wrong with Cosmetic Dentistry?
Cosmetic Dentistry is a blend of lots of High Skills Dental Procedures such as Porcelain Veneers, Porcelain Crowns, Dental Implants and All on 4 to name a few. We see a Fair Few Cosmetic Dentistry Disasters due to a combination of the following factors:
Poor Planning at the start of Treatment
Incorrect Choice and Sequence of Cosmetic Dentistry Procedure
Dentist or Technicians not experienced in handling a particular type of Cosmetic Dentistry Problems.
Cosmetic Dentistry Disasters can be quite extensive, not just monetarily but also the emotional trauma and efforts to undo the poor work. Sometimes, even after the best Cosmetic Dentist efforts, it can still be a compromise.
Our Cosmetic Dentist Dr Madhur not only has vast experience in Rebuilding Smiles but also has salvaged lots of Smiles from Cosmetic Dentistry Problems in Melbourne
What is the cost of Cosmetic Dentistry?
The cost of getting a New Smile with The Best Quality Cosmetic Dentistry can vary significantly based on the following factors:
The Complexity of Your Individual Situation: No two cases are the same. For example, even if two individuals need the same type of treatment, say a few Veneers or a Couple of Dental Implants – The Complexity of their case can be different. Even clients needing All on 4 Dental implants can have a different level of complexity due to various factors.
Experience of the Cosmetic Dentist: Different Dentists have different focus areas and some dedicate their learning and expertise towards Cosmetic Dentistry. Even in Melbourne, there may be plenty of "Dentists practising Cosmetic Dentistry at Different Levels of Perfection". You should research and meet the Dentist in person and ask for their Cosmetic Dentistry Before and After.
Experience of the Ceramist: Your Cosmetic Dental Team cannot be complete without an Accomplished Master Ceramist. Our Ceramists are highly trained professionals who make your Porcelain Veneers and Crowns in the Laboratory as per the instructions of the Cosmetic Dentist.
Here at Prosmiles, Melbourne, you can feel confident knowing that our Cosmetic Dentist Dr Madhur has over 15 years of Extensive Experience in providing The Best Cosmetic Dentistry has to offer. He only works with a couple of World Class Melbourne Ceramist to Achieve the Smile you want.
Payment Plans Available – Make Your New Smile a Reality at Prosmiles
What can Cosmetic Dentistry improve?
At Prosmiles Dental, we provide a wide range of Cosmetic Dentistry options ranging from Full Mouth Reconstruction, Porcelain Veneers –Crowns, Dental Implants and All on 4. Our High-Quality Cosmetic Dentistry Options can solve the following problems:
Broken down teeth
Worn Bite
Gaps in between the teeth
Uneven Smile
Advanced Gum Diseases
Teeth that cannot be saved
If you haven't already, please download our Guides to see the Real Results We Have Achieved with The Best Quality Cosmetic Dentistry in Melbourne.
I am thinking of getting cosmetic dentistry, but I am afraid of dentists, can you help?
You can relax knowing that we go the extra mile to provide virtually painless cosmetic dentistry at our Melbourne Clinic. We also offer in-house sleep dentistry with our specialist anaesthetist.
How much is cosmetic dentistry?
The procedure cost of cosmetic dentistry will depend on which treatments are being completed. For example, a complete smile makeover will cost anywhere between $800-$3,000. This will also depend on the severity of your dental issues and how complicated your cosmetic dental issues are. The cost of services can range anywhere between $800-$1,500 per tooth for more simple cosmetic dentistry procedures.
Is cosmetic dentistry safe?
At ProSmiles, we ensure that our cosmetic dentistry treatments are completely safe for all patients. As our dentists are completely professional and registered, we can achieve complete smile makeovers and rejuvenate your smile through practised treatments. We aim to maintain our dental clinic as a safe and comfortable environment with cosmetic dentistry treatments which guarantee to deliver the desired results.
Does dental insurance cover cosmetic dentistry?
Usually, cosmetic dentistry is only covered by dental insurance if it is medically necessary. Simple cosmetic treatments which target aesthetic appeal rather than pure functionality or necessity will not be covered by dental insurance. However, it is always best to check with your insurance provider to find out if you're a suitable candidate.
Can cosmetic dentistry fix receding gums?
Cosmetic dentistry procedures can sometimes rectify minor gum recession; however, they cannot mend more complicated gum issues. If you find that you are struggling with gum recession, getting it properly diagnosed and treated is important. Usually, gum recession equates to periodontal disease and can cause further issues in the future. This problem will require more serious dental surgeries, which are not covered by cosmetic dental procedures.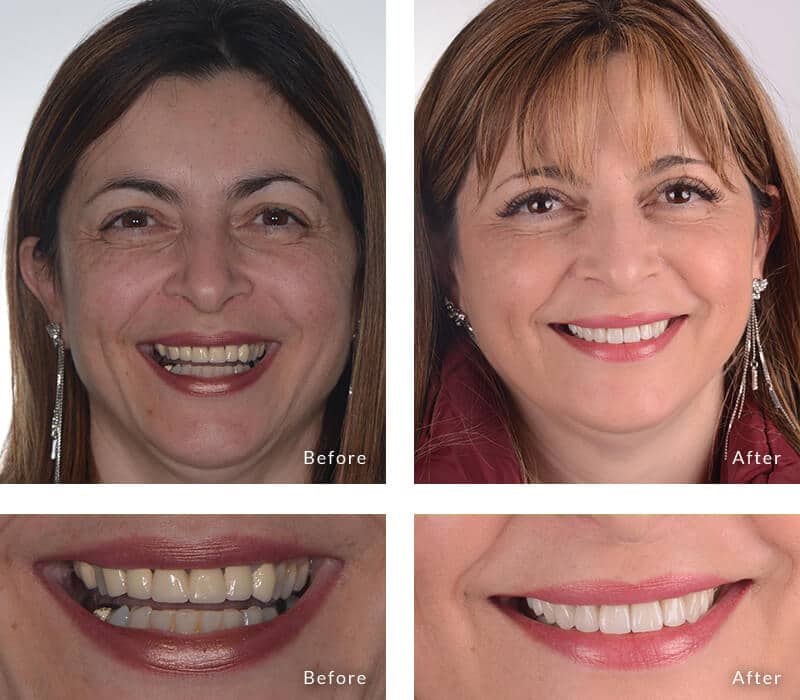 Holistic Approach for High-Quality Cosmetic Dentistry
From high-quality porcelain veneers to dental crowns and All-on-4 Dental Implants, we provide all cosmetic dentistry options to meet the varying needs of our patients. What makes us one of the best cosmetic dentists is our holistic approach to delivering comprehensive dental solutions and treatments to all patients.
Trusted Cosmetic Dentist in Australia
At ProSmiles, our experienced dentists rely on a caring approach, years of experience, and advanced technologies to achieve life-changing results. We pride ourselves on combining engineering and artistry in a way that enhances our patient's quality of life-giving them a reason to smile with confidence once again!
High Quality Cosmetic Dentistry in Melbourne
For the replacement of teeth, crowns, veneers or implants, get in touch with our team of experienced dentists.
Call us on (03) 9417 6355 to book a personal consultation.