Porcelain Crowns Melbourne
Radiant Smiles with Confidence at ProSmile
Kathleen's Dental Crowns Journey
Rebuilding a smile is all about Experience, Bespoke Artistic Approach and Attention to Detail.
The goal is to restore Function and Esthetics. That's exactly what we strive for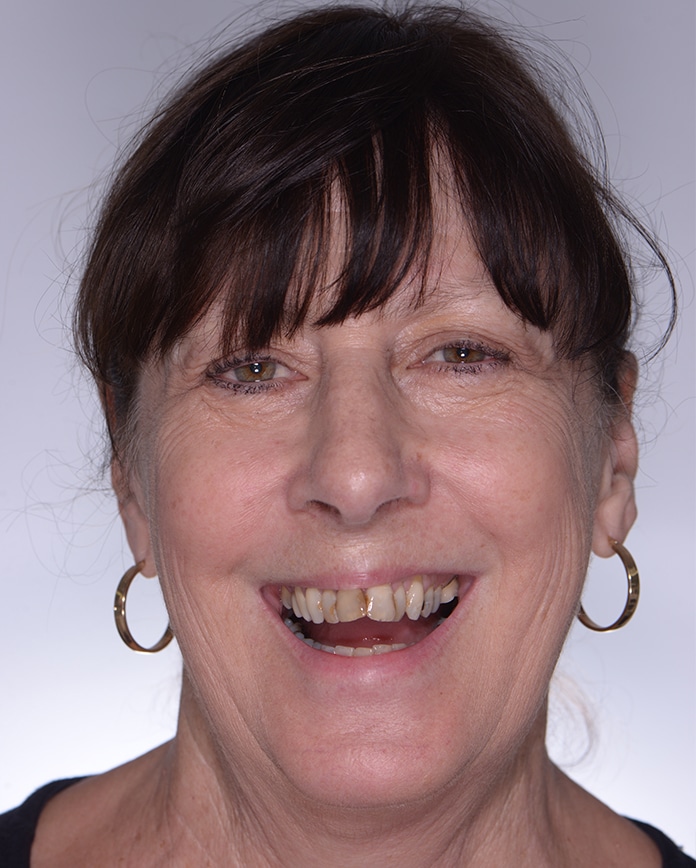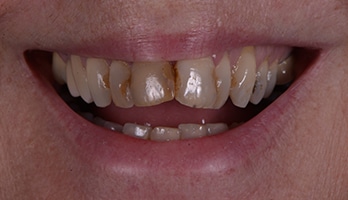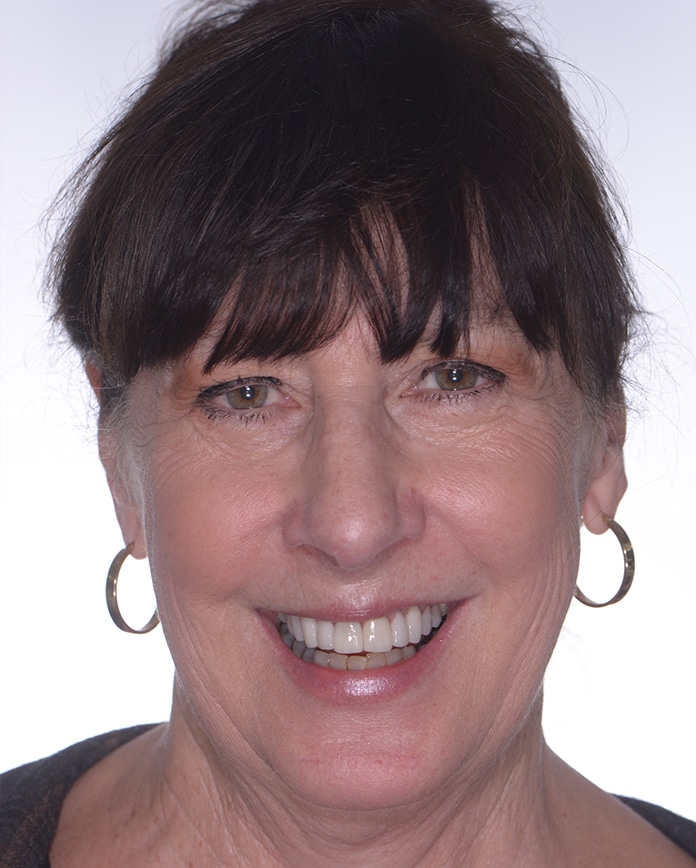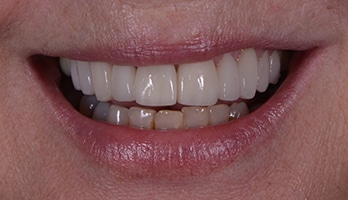 Dental Problems: Discolored and defective old fillings, worn out teeth, aged smile
Our Approach: Smile rejuvenation with porcelain crowns and veneers
Patrick's Tooth Crown Journey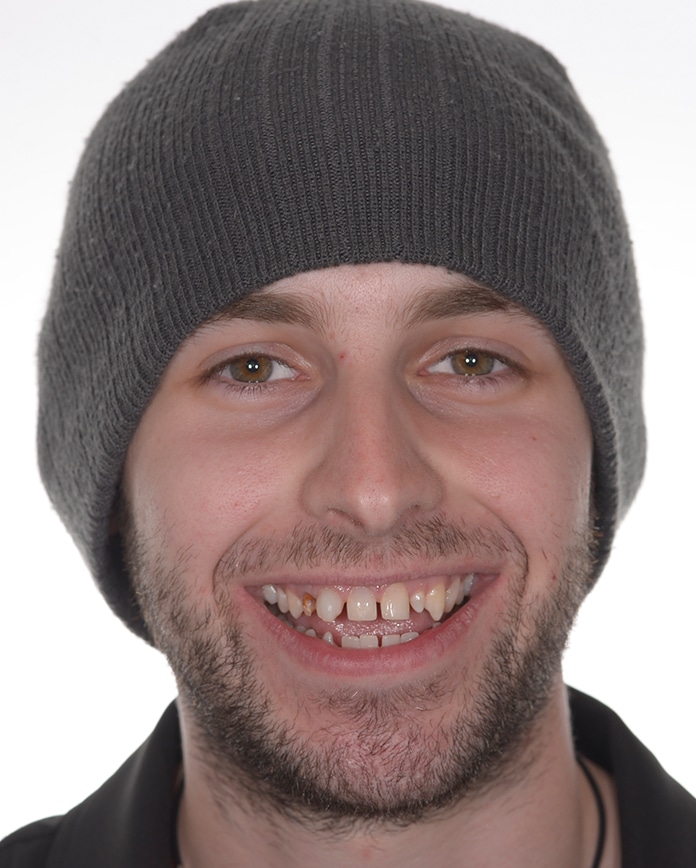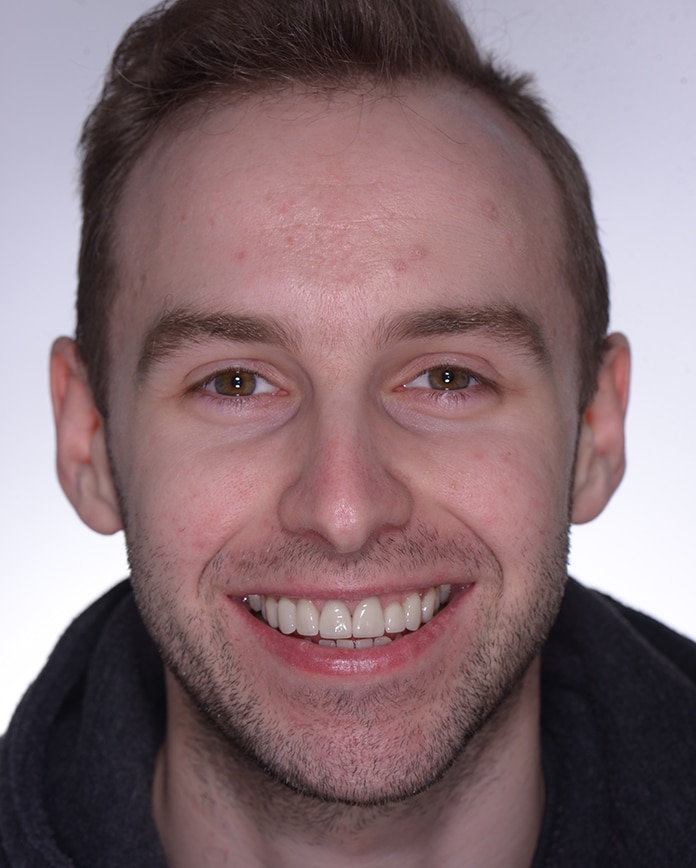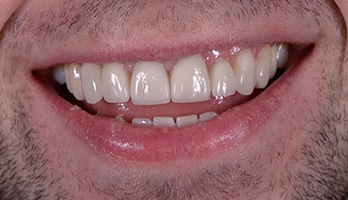 Dental Problems: Missing front tooth, gaps and uneven front teeth
Our Approach: Bone Grafting, Dental Implant, porcelain veneers & crowns and laser gum lift
Restoration with Porcelain Crowns
When the structure of a tooth is compromised by fracture or has been weakened by previous restorative dentistry the dental crown is often a sought-after solution.
Both functional and aesthetically pleasing, the dental crown can be used to whiten, reshape and realign existing teeth. For stained teeth, teeth with minor imperfections and teeth that have been severely damaged, porcelain veneers or composite bonding provides an excellent restoration option for many patients.
Our approach to cosmetic dentistry involves the Biomimetic approach where we can save the integrity of the good tooth structure and avoid crowns – when fitting dental crowns, much of the natural tooth structure is removed.
We do not like to damage an otherwise healthy tooth. However, dental crowns remain an effective treatment for badly fractured and weakened teeth.
Candidates for a Dental Crown
Patients who require significant changes to the alignment of their teeth
Patients who have experienced a bite collapse
Yellow or discoloured teeth
Misshapen teeth
Candidates with healthy gums
How Much Does A Tooth Crown Cost In Melbourne
A single dental crown in Melbourne can cost anywhere between $800-$2,000 depending on the type of crown that best suits your needs. However, the final price comes down to individual circumstance, how many teeth you're getting dental crowns for, and a range of other factors.
At ProSmiles, we'll tailor our services to match your dental needs while keeping our prices of tooth crown as low as possible. For more information on teeth caps prices and service costs, contact our team of dentist crown experts today.
Real People, Real Smiles At Prosmiles
Affordable Dental Crowns at ProSmiles Melbourne
At ProSmiles we are committed to premium quality products and materials. The cost of your crown will be determined by the type of materials and crown that is used. Producing precision crafted crowns from our Melbourne based master ceramists, the Melbourne dental crowns expert team at ProSmiles endeavour to exceed expectations while striving for competitively priced treatments.
Advanced dental technology now produces crowns that are more natural in appearance and durable in application. As a holistic dentistry clinic, we take pride in the quality and craftsmanship of our crowns, providing the best dental crowns in Melbourne.
Porcelain Dental Crowns Collingwood
When embarking on your crown treatment plan, we must first ensure the dental restoration is affixed to a solid, healthy base. Our assessment will ensure the removal of any decay and deteriorated material before the preparation and impressions are created for the crown.
Our dental crowns are then manufactured by a carefully selected quality laboratory based in Melbourne. Once crafted the crown is then fitted and fixed into place.
At ProSmiles we proudly offer a range of dental crowns to suit your needs. Before proceeding we will assess gum health, tooth location and the extent of the tooth damage. These variables will influence the final choice. The choice involves the aesthetically superior ceramic crown where metal is not exposed (however, they may be susceptible to chipping in comparison to metal ceramic options).
Porcelain Crowns FAQs
Porcelain crowns are a resilient, durable solution for professional cosmetic dentistry needs. Our team at ProSmiles have answered your more frequently asked questions about porcelain crowns and our dental services. For more information, contact us on 038613 3416.
How much are porcelain crowns?
A single dental crown can be expensive; however, the material and durability of the porcelain crown is worth the price. In Australia, the general price of a porcelain crown is between $800-$2,000, per tooth. At ProSmiles, we're dedicated to keeping our prices low while ensuring that all our customers receive the best dental care and quality services possible. Therefore, to discuss pricing with us further, contact us today, and we'll be happy to help you through a payment plan.
How strong are porcelain crowns?
Porcelain is relatively stronger than natural tooth enamel and therefore, is overall more resilient and durable than other crown options. However, like any material, overly strenuous pressure or activity may damage the porcelain crowns. If your porcelain crowns are too thin than they may become brittle and gradually fracture. Therefore, it's important that you invest in high-quality porcelain crowns from an expert dental clinic. At ProSmiles, we're experienced in the art of porcelain crowns and can help you ensure that your crowns last for a long time to come.
What are porcelain crowns?
Porcelain crowns are the perfect option for people who have damaged or missing teeth. They are custom-made caps that are bonded to the tooth which needs replacing. The porcelain crown will fit over the original tooth, therefore, restoring its strength and function. By utilising porcelain to create the crowns, our dentists are able to seamlessly blend the colour with your natural tooth so that the addition of the crown does not hinder your smile and keeps your set of teeth looking aesthetically pleasing.
How long do dental crowns last?
Although porcelain veneers are known to be strong and last for a while, they need to be properly maintained with regular examination and cleaning. If chipped or damaged, they also need to be replaced. Therefore, the duration for which your dental crowns last will be dependent on how well you maintain them. At ProSmiles, we'll help you get comfortable with your new porcelain crowns and assist you with how to care for your new set of teeth.
How are dental crowns made?
Dental crowns are created to suit each individual mouth. Therefore, our dentist will start by taking an impression of your tooth or teeth and then customising a porcelain cap which will be attached to your tooth. The dental crown will also be matched to the colour of your natural teeth so that it doesn't look out of place when it is permanently placed onto your tooth. For more information on how our dental crowns are made, contact us today.
How much are dental crowns with insurance?
Although dental crowns are on the pricey end of dental restoration services, a portion of the cost is generally covered by insurance. To be sure how much, it's best to check with your dental insurance company and talk them through what your situation is. At ProSmiles, we'll discuss prices with you in detail so that you have all the relevant information before making a decision about your dental crown journey.
How much do dental crowns cost in Australia ?
In Australia, a single dental crown can cost anywhere between $800-$2,000. However, the final price comes down to individual circumstance, how many teeth you're getting dental crowns for, and a range of other factors. At ProSmiles, we'll tailor our services to match your dental needs while keeping our prices as low as possible. For more information on prices and service costs, contact our team of experts today.
Why are dental crowns so expensive?
There are many reasons for the high-end pricing of dental crowns. Some of these include the advanced technology needed to produce a dental crown, the fact that the crown can be customised so that it matches your natural set of teeth in both size and colour, and the material utilised to create the dental crown. They are also a permanent solution which means the procedure requires more time and precision. However, at ProSmiles, we believe in keeping our prices affordable, and therefore, we're dedicated to providing high-quality services for lower prices.
Are porcelain crowns good?
Porcelain crowns are a great restorative and cosmetic option. Dental crowns are fixed prosthetics which means they are permanently attached to your natural set of teeth. They are perfect for covering up damaged or chipped teeth and are made in a way that allows them to blend in with your natural smile. Additionally, dental crowns strengthen the tooth, improve the alignment of your teeth, and improves the overall aesthetic appearance of your smile. Our dentists at ProSmiles are experts in porcelain crowns and guarantee that they make for an easy fix when it comes to restoring the natural look of your teeth.
Do porcelain crowns break easily?
Porcelain crowns are usually stronger than natural teeth. However, like any material, when put under large amounts of stress, they tend to break or chip. If this occurs, small chips and cracks are easy to fix, and the crown can remain in your mouth while the procedure is completed. Alternatively, if you completely crack the crown, then it can be replaced.
What happens if you don't fix a crown?
It's important to fix a dental crown if it becomes chipped or damaged to ensure you're getting full functionality out of it. Not getting a dental crown fixed could cause further problems down the line. If your chipped dental crown is causing you pain or irritation, it's important to get it fixed or replaced immediately.
Can porcelain crowns be repaired?
Yes. Porcelain crowns can be easily repaired depending on the damage that has been done to it. If your crown has a small chip or crack, our dentists can easily repair it with resin and have it looking as good as new. However, if the crack is larger or more damage has occurred to the crown, then it may need to be completely replaced. At ProSmiles, our dentists are experts in porcelain crowns and will know how to solve your dental issue.
What is better porcelain or ceramic crowns?
The choice between porcelain or ceramic crowns comes down to individual choice. While ceramic crowns are usually preferred as an option for front teeth and are deemed more attractive, porcelain teeth provide extra support and greater longevity. At ProSmiles, we'll talk you through both options so that you can decide which is best for you.
What is the best type of crown?
There is no definite answer to which type of crown is best as it all depends on individual circumstance. Some people may feel more comfortable with a porcelain dental crown, while others may prefer ceramic or metal. To find out more about each type of dental crown, talk to our experts at ProSmiles today.
Are crowns good for front teeth?
Porcelain or porcelain fused to metal dental crowns are highly recommended for front or more visible teeth as they can be fully customised to match the look of your original set of teeth. They give more of a natural appearance in colour, shape, and size, and therefore, they are a great option for front teeth. For more information on dental crowns, contact our team today.
Contact Us Today
To find out more information on porcelain dental crowns, our restorative procedures or any of the other dental care services we provide, contact us today or call us on (03) 8613 3416.