Gum Disease Treatment
Pyorrhoea, or gum disease, affects your overall body and is a leading cause of tooth loss. It is often a "silent disease" with no pain until it is too late.
Gum Disease Treatment Near The Melbourne CBD
What is gum disease and why does our friendly dentist in Collingwood want you to know about it?
Gum disease is a deep bacterial infection in the gums that slowly erodes and dissolves the jawbone that holds the teeth.
In most situations, gum disease develops without obvious signs of infection or pain.
Gum disease affects not only your mouth, but also your overall health and wellbeing.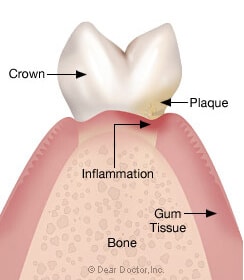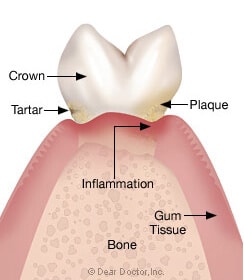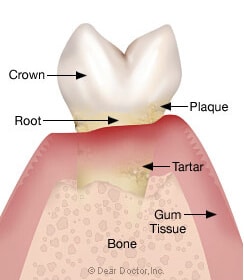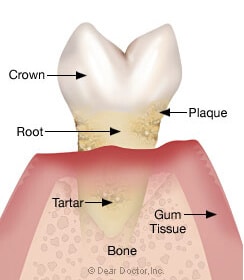 What are the signs of gum disease?
Pyorrhoea, also known as gum disease or periodontitis, is called a "silent disease" as often the signs go unnoticed and there is no pain until it's too late.
However, there are some signs you should look for:
Gums that look receded or peeled away from teeth
Gums that easily bleed when you brush or floss
Bad breath during the day or in the morning
Shifting of teeth
We are serious about the gum health of our clients. Therefore, our Collingwood dentist near Melbourne recommends regular check-ups and early treatment.
Can you treat gum disease?
The jawbone loss and damage caused by gum disease, unfortunately, cannot be reversed.
The good news is with thorough periodontitis treatment our professional Melbourne dentists can control and manage the active gum disease and infection. We can get you healthy and maintain your gum health but cannot reverse the bone loss due to gum disease.
What is the treatment for gum disease or periodontitis?
Our friendly dentists in Collingwood take your gum health seriously. If we find that you have gingivitis or gum disease during your dental check-up, we will discuss this with you. Doing a regular dental clean may not be sufficient and actually may hide the underlying disease.
With your permission, we will do a digital full mouth x-ray to assess the bone loss. We will also assess the gap between your gums and teeth, which is called the gum pocket.
We will create an individualised plan that may involve a combination of the following:
Deep gum clean after numbing to remove tartar and bacteria harbouring below the gum line.
Gum surgery in advanced gum disease.
Frequent regular dentist cleans after your gums are stable with our friendly Collingwood dentists.
A high-quality dentist In Melbourne that you can trust
Prosmiles is a leading Melbourne dentist that provides advanced procedures, such as all-on-4, dental implants, cosmetic dentistry, and quality family dentistry in Collingwood. Call Prosmiles on (03) 9417 6355 to learn more about periodontitis treatment cost and other information.